ABOUT HAND HELD HOLLYWOOD
Hand Held Hollywood explores how your iPhone and iPad can aid in nearly every aspect of film and video production. From filmmaking apps and accessories, to time-saving workflows, this is a destination for those wishing to discuss and discover the latest techniques and technology. It's a place where every iThing-obsessed writer, producer, director, cinematographer, composer, editor, actor, and otherwise can call home.
Hi there! My name is Taz Goldstein (tazgoldstein.com), and I'm an award winning filmmaker and author. I launched HandHeldHollywood.com in 2009 to satisfy my own mobile filmmaking and technology addictions. When I'm not posting about the latest iPhone & iPad filmmaking tools, I'm a directing and producing film & television in Los Angeles, CA. Most recently, I executive produced Spinning Plates, a food documentary that enjoyed a successful world-wide theatrical run, and is now available on Blu-ray, in iTunes, and at Amazon.com.
I enjoy nothing more than sharing what I know. I lecture regularly at industry events (including NAB, MacWorld, SuperMeet, The Showbiz Expo, NAMM and the DV Expo), and recently authored Hand Held Hollywood's Filmmaking with the iPad & iPhone for Peachpit Press. I've served as a Digital Media Net (DMN) forum leader, hosted the After Effects Boot Camp training series, and I'm a former faculty member of the American Film Institute.
If you're interested in having me give an HHH presentation at your company or industry event (or if you'd just like to say, "hi"), please feel free to drop me a line using the email link on the bottom of the page.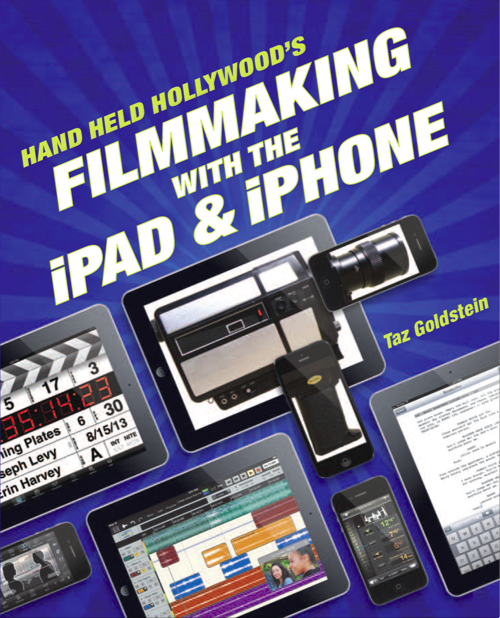 O.A.Q. (Occasionally asked questions)
Here's a 2.6 megabyte zip file containing a few versions of the HHH logo and two photos of site founder, Taz Goldstein.
Have you subscribed to our newsletter? To ensure compliance with international privacy restrictions, we've made it easy for you to manage your personal data. Visit User Data Privacy page.