This app has been removed from the App Store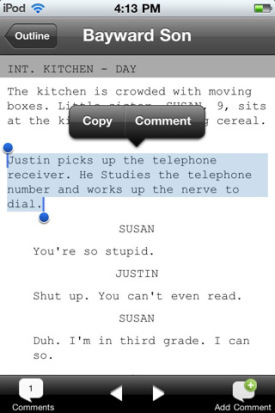 One of the coolest web apps around is Adobe Story. Part of Adobe's CSLive suite of applications, Story is Adobe's online screenwriting tool that focuses on collaboration (using modern technologies like metadata). If you're a screenwriter, its worth taking a look.
Now, Adobe has expanded the Adobe Story universe by releasing a new iPhone app called…wait for it… Adobe Story. Catchy, right? The new app is NOT a screenwriting app.  But it IS a screenwriter's app.
With this app installed on your iPhone, you can access your online scripts and documents, review comments and changes made by your collaborators, and add your own comments and notes. Everything you do is synced back to your online account. Pretty handy stuff for a FREE app! Not only is the iPhone app free, but so is Adobe Story online (until April 12th, 2012. After that, who knows).  Check out the video below to see the desktop verison of Adobe Story in action.
If you're looking for screenwriting apps, you've got some great options. Check out Scripts Pro, ScriptWrite, Screenplay, Celtx Script, and the newest kid on the block, Fade In Mobile.
Some of the apps mentioned in this post: