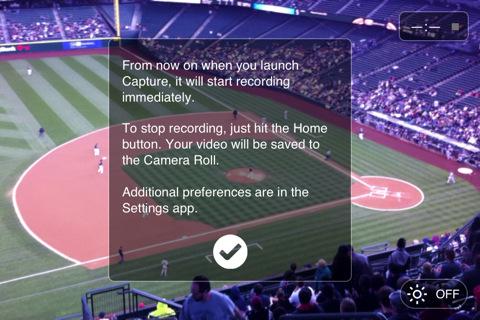 You need to shoot an amazing something-or-other in a hurry, so you whip out your iPhone, tap the camera app, and wait around for what seems like an eternity. By the time you're ready to record, the amazing something-or-other is gone. Sound familiar? Due to the Camera app's sluggish load times, this is a problem I've experienced MANY times.
The wait is over!
Capture ($.99) by Sky Balloon will automatically start recording video mere moments after it's launched. How quick is it? In my tests, it started recording 1-2 seconds after tapping the app's icon (depending on when it was last used). To stop recording, you simply hit the home button. Your new video will be waiting for you in your camera roll (via the Photos app). That's it! It's crazy simple. In some ways, this is even easier than the original Flip video camera.
Capture isn't the only Fast and Furious app in the App Store (i.e. Instant Video by Fakhr), but I do think it's the slickest. It lacks the advanced features of camera apps like FiLMiC Pro, but that's not the point of Capture.  Speed is the name of the game, and Capture has it in spades.
QUICK! SHOOT SOMETHING!
P.S. Thanks to AppAdvice for putting this on my radar.  And thanks to Cult of Mac for putting it on AppAdvice's radar. And thanks to Minimal Mac for putting it on Cult of Mac's radar. Conclusion: Internet = link orgy.