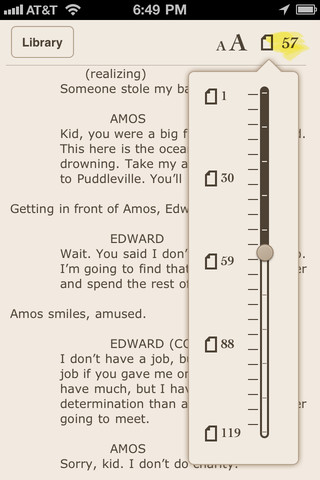 If you've been looking for an easy way to read Final Draft FDX files on your iPhone or iPad, now is the time to check out FDX Reader from Quote-Unquote Apps. The app has just received what is likely its last major update (more on that in a second), and has gone on sale, dropping in price from $4.99 to $1.99 (sale ends December 12th).
According to the developer, the 1.1.4 update brings performance bumps (especially on the iPhone 4S), fixes a place-saving bug, and includes a new settings bundle to help with troubleshooting.
So now, the question you're probably asking is, "Why will this be FDX Reader's last major update?"  I'll give you the answer in two words.  "Final" and "Draft."
From the developer's website:
Final Draft itself is working on an iPad app (a reader, not an editor). They're promising support for revisions, locked pages, and a lot of features that are honestly a bear for us to implement even with Final Draft's relatively open file format. I suspect their app will be priced higher, as it should be.
They gave a couple other reasons, but for me, Final Draft is the reason I need.  For the record, there has been no official announcement about what features the Final Draft app will include, or when it will be released.
So now, the question you're probably asking is, "Why would I buy an app that will no longer be getting major updates?" Here's my answer: If you need to read FDX files on your iThing today, you like the look of FDX Reader's interface, you can't wait until Final Draft releases their app, and you've got 2 bucks to spare, then you have no reason NOT to get FDX Reader.
You can check out some of our previous FDX Reader coverage here.
In other news, the developer also stated that they've got multiple new apps heading our way (for Mac and iOS)… and I have to admit, I'm pretty psyched about that.