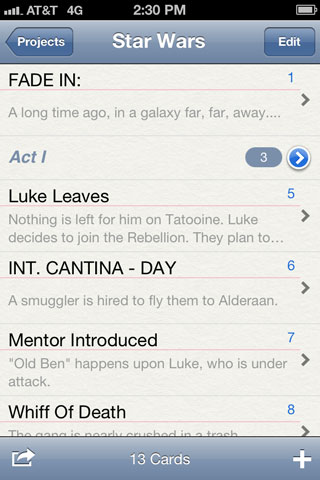 I've been a big fan of Index Card (for iPad) since its initial release in August of 2010. The app lets you create and organize digital index cards on a virtual cork board . It's a great tool for iDevice owning writers who are looking for a little help structuring their stories.
Now, DenVog has released a brand new version of Index Card made specifically for the iPhone!  Since an iPhone screen is so much smaller than an iPad's, you can't view a ton of cards at once. But, the developer has come up with a sweet way to quickly flip through cards. It reminds me of cover flow, only more 3D-afied.
You want features? Here's you go!
Projects: Maintain multiple separate projects, each made up of its own cards.
Cards: Each card is a piece of your project, such as a movie scene, piece of dialog, book chapter, or source material. Cards contain a title, synopsis, and label color.
Card List: Visually arrange the flow of your project with the tip of a finger. Tap Edit to to drag card rows to a new location and surrounding cards will automatically reorder.
CardFlow: Rotate your device landscape and view your cards fullscreen. Swipe left or right to navigation through them.
Export: Save an RTF copy of your project to your computer via iTunes File Sharing
Mail: Email the current version of your project without leaving the app
Dropbox: Import / Export projects with the popular online file sharing service
iPad: Share .indexcard project files with Index Card iPad users.
Scrivener: Sync your project with the award-winning Mac OS X app (card title, synopsis, long text, sort order)
If you've never used index cards to structure your stories, you're missing out on a fantastic technique. Here's a very basic intro.