This week, we're going to look at how Fountain is making it easier to write screenplays on your iPhone, iPad, and iPod touch (as well as your Android device, Blackberry, Windows phone, Palm Pilot, Mac, PC, Apple II, and TRS-80 — yes, really).
When the iPhone was introduced seven years ago, the only true writing tool was the native notepad app, a bare-bones, nearly featureless text editor. I tried writing a few script pages, complete with all the necessary complex screenplay formatting, in this app. I quickly concluded that writing a screenplay in any text editor was not only a horrible idea, it was also a very horrible idea.
Today the App Store offers several mobile screenwriting apps that provide feature-rich authoring environments designed specifically for pounding out screenplay pages (i.e., Celtx Script $4.99, Storyist $9.99, and Final Draft Writer $39.99, etc.). All of these apps are extremely powerful, and yet, I'm using them less and less. Why? Because I've fallen in love with writing screenplays in… wait for it… text editors.
How can this be? The answer is Fountain.
Fountain is a comprehensive, easy to learn, simple to implement, free to use screenwriting syntax based on screenplay standards that already exist (most of which you already know or can learn very quickly). With this new syntax, you can write your script as plain text in any text editing apps (not just screenwriting-specific programs), on any platform (yes, even a TRS-80), without having to worry about indents, margins, and other formatting particulars. And, because you're writing in plain text (which is platform agnostic), you can bounce between apps and platforms at any time (i.e., Begin writing in TextEdit on your Mac, continue writing in Editorial on your iPad, and finish up in JotterPad on your Android tablet). When you're finished writing, simply feed your text through a Fountain compatible converter, and presto! You've got a properly formatted script! It's like magic, only more magical!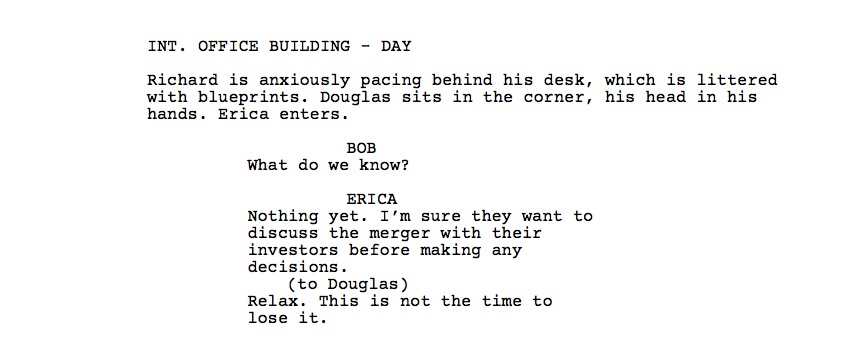 That was a lot to digest, so let's break it down:
First you need to learn the Fountain syntax. Here are a few examples: Start all scene headings (slug lines) with INT, EXT, or something similar. Write action as you normally would. Keep character names in UPPERCASE. Dialogue always follows character names. Easy peasy! If you already know how to write a screenplay, you'll pick up the Fountain syntax in about 60 seconds! A complete description of the syntax can be found on the Fountain website.
Next, pick the app (and platform) you want to write in. Which text editing apps do I use on my iPad? Too many to list. I try new ones all the time. A quick search in the App Store revealed well over 100 text-editing apps, each offering its own unique feature set. That's a lot of options! Tech guru Brett Terpstra has compiled a comprehensive, interactive list of the best iOS text editors that should help make your choice a little easier.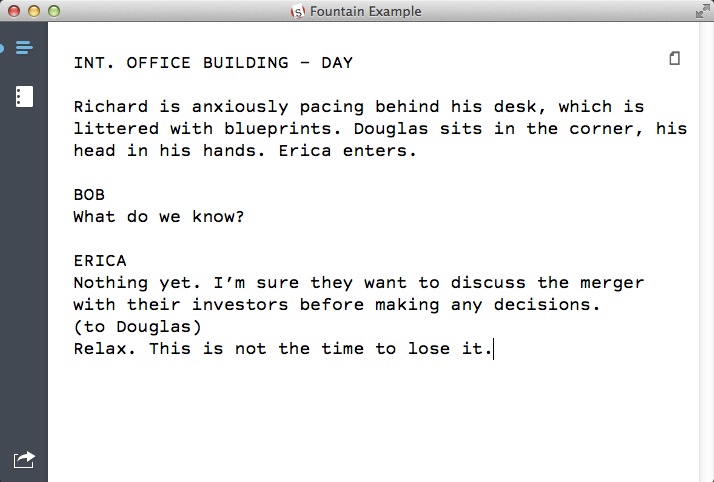 Lastly, you'll need a Fountain converter to transform your text into proper screenplay format. Fountain is still in its infancy, but a number of conversion tools are already available. Highland for Mac is my current favorite. It converts Fountain text into PDF files and Final Draft documents. It will even convert existing Final Draft docs and PDF files back into Fountain text – a very neat trick! Once again, I suggest you poke around the Fountain website to view their up-to-date list of conversion utilities and related applications.
Writing a script is hard enough without having to remember specific margin settings and confusing shortcuts within dedicated screenwriting applications. By using Fountain, that complexity begins to melt away. Write on!