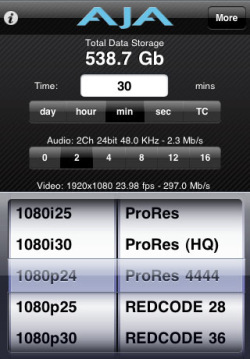 AJA has just released a new version of their much-loved digital media storage calculator, AJA DataCalc. If you work in digital media, and wonder how much drive space a particular project will consume, this app will help provide an answer.
Version 1.2 adds support of AVC-Intra 100/50 (hooray!), AVCHD, and CineForm 3D.  According to the developer, the new version also sports a 4-channel audio selection, extended 4k geometry options, and detailed information about audio/video choices.
Even with this new functionality, AJA DataCalc remains free. Hooray FREE!