Chip Landmass?
Viva LeTruckstop?
How about Blunter "Golden Fists" Lighswallow, III?
Even though these are all clearly brilliant character names, drenched in dignity and depth…they may not be right for your current project.  And you can only name so many characters Bill and Sarah.  You want your characters to have the appropriate moniker, right?  So, where can you turn for a little name inspiration?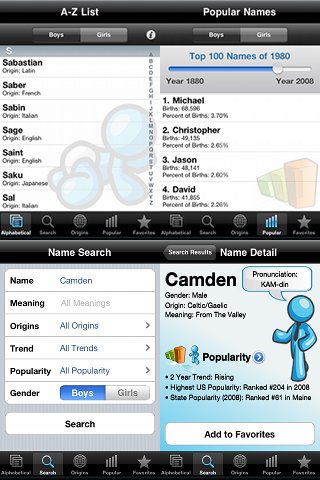 Baby Names Plus by SchatzisoftFor years, I've turned to my trusty, pastel balloon covered Baby Name book.  I can always flip a few pages and find something unique and evocative.  I've been using the same book for the past 10 years, and it shows.  The cover is torn, too many pages are earmarked and the binding is in shreds.
Thankfully, there are a ton of Baby Name apps ready for download.  We found them ranging in price from Free to $4.99.  Our favorite is Baby Names Plus.  It's got a nice interface, and good search options.  You can save your favorites, and easily email them to your writing parter.
There are plenty of others including My Baby's Name, Name Picker, and a new one from BabyNames.com, Baby Names Finder.  Just do a search for "Baby Names" in the iTunes App Store and prepare to find an embarrassment of riches.
And for those of you who refuse to buy into all that App Store capitalistic nonsense, here's a free web app that will cost nothing but patience during load times. The web app will only work when viewing on an iPhone.
How do you come up with character names?  What's your source of inspiration?  Share in the comments.