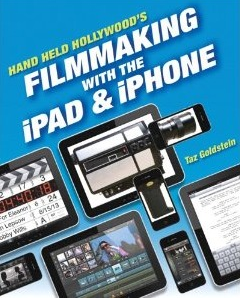 I love today! Why? Because, today I get to tell the world about the book I'm currently writing for Peachpit Press titled, Hand Held Hollywood's Filmmaking with the iPad & iPhone! 
As a result of the HHH's success (thanks to you, my awesome readers!), Peachpit Press contacted me last year, and asked me to write a book on the same subject as the site. The book will take readers through the filmmaking process, one step at a time, and will point out the most useful apps and accessories along the way.
If you're an iPhone or iPad owning filmmaker, and you dig this site, I think you're going to freak out when you see the book.  I'm only a handful of chapters in, but I'm very excited about what I've written so far. My goal is to create the best guide to iOS filmmaking ever written, and I can't wait to share it!
Speaking of sharing, the book is set to be published in late November (I know what I'm giving out for Christmas!), and Amazon already has it listed for pre-order. If you feel like supporting this site, and the book, I sure hope you'll consider adding the book to your wish list (and telling everyone you know about it).
More to come!