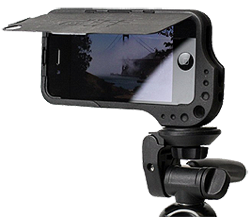 AppAdvice.com has just posted a preview of the new DiffCase for iPhone.  It appears to be a new entrant into the iPhone tripod mount category. While there are plenty of other gizmo's of this sort, the DiffCase has the added convince of a sunshield. That may not seem like much, but it's something I've sorely needed when shooting on sunny locations.
The case also features kickstands for tabletop viewing in both portrait and landscape orientations.  There's also a key-ring hole in the case that's useful for attaching the case to other things.  The DiffCase website suggests using a carabiner to attach it your handbag or backpack, but I see this as a useful option for connecting a safety line to your tripod (or monopod) — just in case the case comes loose.
The DiffCase is now available for pre-order at a discounted price of $30.