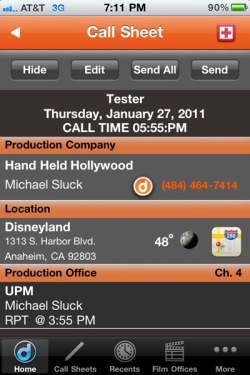 The wait is over! Mobile Imagination has finally released doddlePRO.
As you may recall from our previous coverage, Doddle is a huge online huge production directory. Inside, you can find virtually any piece of gear, service, or crew member. Up until now, there were only two flavors of Doddle in the App Store. Doddle (free, but has ads) and Doddle Premium ($2.99, no ads).
The new doddlePRO ($9.99) adds digital interactive call sheets that work alongside the vast database that the company has compiled since its launch.
All three versions feature a clean interface with easy to access features. I've reviewed just about every call sheet app in the app store, so let's look at how doddlePRO compares.
Features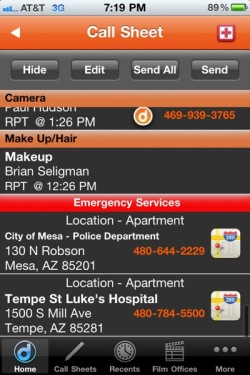 The call sheet section allows you to create, edit and view call sheets on the go, including those created and shared by other Doddle users. What makes Doddle different from the other call sheet apps is the inclusion of interactive features. Now you may be asking yourself, "How can a call sheet be interactive?" First, when you select your shooting date and location, the weather report is inserted automatically, and is always kept up-to-date. The app also automatically adds emergency info, like the address for the nearest hospital. Secondly, any phone number or address you tap will open in its respective app.
Set Up
In doddlePRO, call sheets can be created in about 5 minutes. And unlike the other call sheet apps, doddlePRO can handle contact information in multiple ways. You can import contacts from the address book, enter them manually, and import them directly from Doddle's massive database of industry professionals. Doddle includes all the usual categories and fields (including radio channels), and also includes the option to create your own in their notes section. Crew members who own doddlePRO can open your crew sheets right in the app, and benefit from the interactive features. For crew members without doddlePRO, you can still email PDF call sheets straight from the app.
Final Thoughts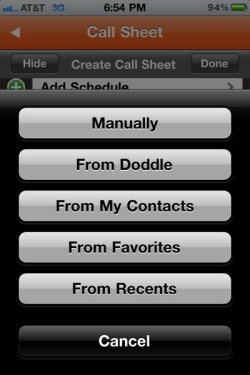 Doddle had initially promised to get the PRO in the hands of industry professionals many months ago. Well, better late then never. Doddle's directory has captured industry-wide attention. This is reason enough to download the free version (without interactive call sheets). However, the ability to import contacts into digital call sheets directly from Doddle's directory, makes the PRO version a very compelling app (and platform). I am hard pressed to find any major issues with this application, since it has so many uses.
If you'd like to see doddlePRO in action, here's some video from the ShowBiz Expo.