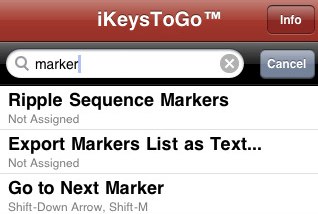 I admit it.  I've been using Final Cut Pro for years, and I still only know about 20 keyboard shortcuts.  Maybe 25 if I've had a Redbull. The worst part forgetting the those commands is having to look through the manual (or PDF). It's never as quick and easy as it should be. There's usually a lot of page flipping and time wasting involved.
Enter iKeysToGo: Final Cut Pro 7.  It's a searchable, well organized list of keyboard shortcuts. That might sound unimpressive for $2.99, but you'd be amazed how handy this app really is. There's a lot of time to be saved with this puppy. I'll let Diana Weynand tell you more about it.
And I'm sure this isn't what the developer wants to hear, but iKeyToGo also makes for excellent bathroom reading.  You're welcome.