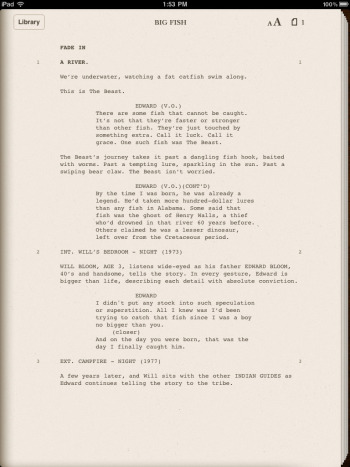 No, Final Draft isn't on the iPad yet… but that doesn't mean you can't read your Final Draft screenplays in the meantime.
While there are many terrific apps available for reading scripts in the PDF format (i.e., GoodReader, PDF Expert), there's only ONE app whose primary purpose is to read native Final Draft documents (.FDX) on the iPad. That app is FDX Reader by Quote-Unquote Apps ($7.99).
The app has been around for a few weeks now. You may have heard about it on other sites, but I chose to hold off discussing it on HHH for one important reason: It didn't really work.
The original release was crashtastic. I was unable to display any script with an omitted scene (which is pretty much every script in my collection). And it ignored dual dialog (completely removing it from view)! I emailed the developer and got a very quick response informing me that they were already aware of the issues, and would soon be releasing an update.
Well, that was then and this is now. Multiple updates have been released, and things are right with the world… mostly.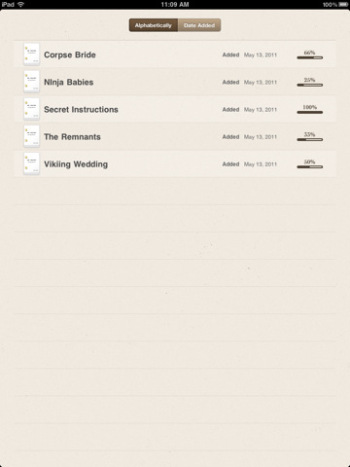 The app now performs as expected, easily opening any FDX file (brought in through iTunes, Dropbox, or as an email attachment). Scripts are presented in a very pleasing color pallet (easier to read than black & white). The interface is simple and elegant. You flip through pages with a simple swipe, or by pulling a page slider along the side. When you close the app and return to it later, it puts you right back where you left off. The app doesn't provide any annotation tools, but I can't take points off for that since the developers clearly state that FDX Reader is for READING only. That said, I'd love to see annotation tools added in future versions.
The missing dual dialog bug has been squashed, but FDX Reader still doesn't display dual dialog in two-column format. The current version displays the dialog stacked instead of side by side. Hopefully, that will be changed down the line.
A couple of bugs remain. I loaded up several of my old scripts and found a couple of insignificant display errors. And, I still had an occasional crash (two crashes during a 6-hour reading marathon).
There's one other pet-peeve I want to mention. Currently, FDX Reader does not offer the option to display each script page individually. Pages get broken up and presented as segments of a long virtual scroll. There's something to be said for keeping the pages as the author created them. White space can be a powerful tool in the right hands. This is a minor issue… and like I said, it's a pet-peeve more than a problem.
All in all, FDX Reader is a great solution for a very specific problem. Based on my previous experience with the developer, I'm fairly certain the app will continue improving with each update.
On a side note, there IS another app that will read FDX format, although that's not its primary function. Screenplay will let you import and export FDX formatted scripts. That said, Screenplay is clearly a writing tool, and not designed for pure reading enjoyment.
Here's the FDX Reader promo video:
This app has been removed from the App Store