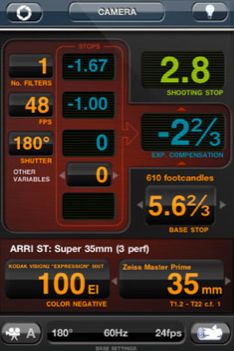 Calling all DP's! Chemical Wedding has just released Toland ASC Digital Assistant ($39.00), a new iPhone film calculator unlike any calculator you've seen before.  It's totally sick.  If the Cray XT5 Supercomputer, and an Arri Elexa had a love child, my guess it would grow up to be Toland.
Unlike many other film calculators, Toland takes your entire shooting system (camera, format, lens, film stock, filters, etc.) into account when crunching your numbers.  It's not just a "how much is in focus" gizmo. No way. This thing goes WAY deeper.  If you're a DP, you need to check out our interview with the makers of Toland. They give a little background, and a very deep tour of the app.
Please excuse the assy video quality.  I had a host of unexpected technical problems. Hooray!