When I heard that the Internet Movie Database (IMDB) finally had its own iPhone app, I must admit, I was pretty unenthusiastic. There are already a ton of apps that searched the database, some of which I like quite a bit. But after trying out the official IMDB app, I'm hooked.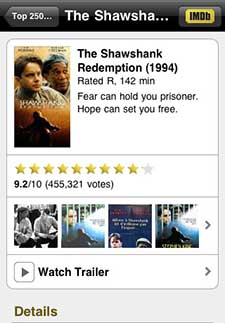 Sure, it performs the basic "search" functionality you'd expect. But it also offers local movie times, box office results, TV schedules, and other useful data, all in a VERY clean and well organized interface. Not only has this app replaced my other IMDB serach apps, but it may also bump Movies and Fandango off my iPhone's home screen.
If you're not famiar with IMDB, here's a few links to get you started.
The portfolio of Steven Seagal
You're welcome.