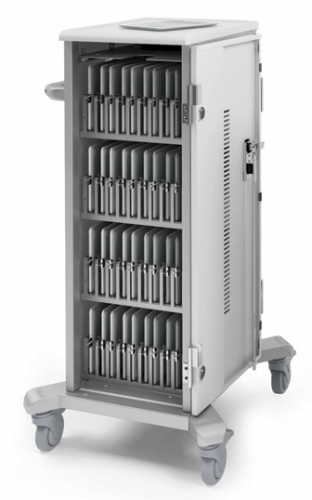 Here's another interesting product I found while trolling the iWorld isles for free t-shirts.
This is the Anthro Charging Cart ($1499). Basically, it's a rolling, locking, charging station for a boatload of iPads.  I originally typed 'buttload' in that last sentence, but later remembered that HHH is a classy site.
This cart may be just the thing for an iPad-powered production office looking to store and charge an entire crew's worth of tablets between shoot days. As iPads become more tightly integrated into our workflows (wireless video-taps, anyone?), the need to efficiently store and charge them increases.
The cart is quite versatile, and can easily store iPads, iPhones, laptops, and most other small A/C powered gizmos.  The cart uses the power cables that come with your devices, so it's infinitely flexible (and somewhat future-proof).  There's a surplus of power outlets inside the back of the cart (see the video below) that will take any standard A/C charger.  While that flexibility is one of the cart's primary advantages, it may also be seen as a drawback to some. Here's why…
Because the power cords are not hard-wired,  you need to manually plug all the devices, one at a time, when storing them.  There's no slide-in-to-connect feature.  You need to slide it in, and then plug it in.  Not a big deal, unless you have to store and charge 300 iPads.
Anthro offers a variety of cabinets (wall mountable, rolling cards, etc.).  I like the carts best since they can be easily rolled from a production office to a crew truck.  It's an elegant solution to a modern problem.
Want to see more? Check out this video I shot at the Anthro iWorld booth: