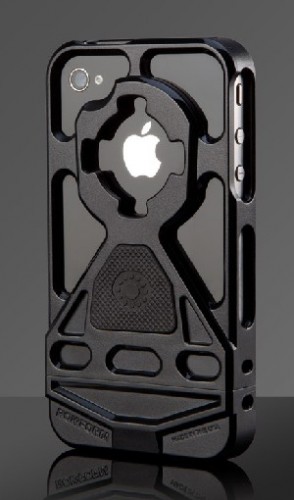 I just got back from MacWorld | iWorld, and BOY, what a difference one year can make!
In 2011, Macworld wasn't much more than 20 isles of iPhone cases.  This year, I found boatloads of terrific apps and accessories for mobile filmmakers… along with 20 isles of iPhone cases. But not all of those cases were useless. In fact, some were downright awesome.  Here's an example:
The Rokform V3 iPhone Case features a small, clever mount that makes it extremely versatile, and suitable for sticking on the side of a road case or camera rig.
They offer a bunch of mounting options, and add-ons, including a can opener (which is handy since filmmakers have been known to enjoy a drink or two). Naturally, of all the options, I thought the coolest add-on was their tripod adaptor (works in landscape and portrait orientations).
My only complaint is that the Rokform lacks a locking mechanism (to keep the case in place).  Once an iPhone is mounted, it feels pretty solid, but a lock would make me feel a little more comfortable. There was another company showing off a VERY similar mounting system called the Quad Lock (just finished a successful Kickstarter funding campaign) that features a locking mount. Hopefully, Rokform will follow suit.
If you've been looking for a quick and easy way to mount your iPhone to just about everything, check out the Rokform V3.
Here's some video I shot at the Rokform booth, and some more I swiped from their website.