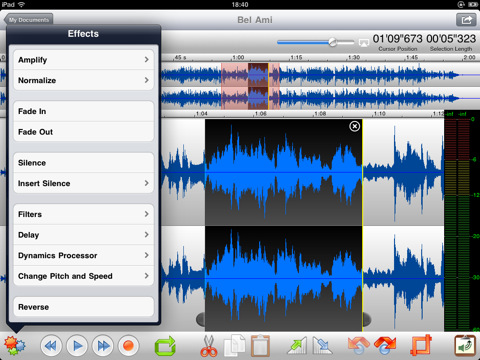 We spend a lot of time talking about apps that help you master the moving image. But, what filmmakers often forget is that good audio is half of good video.  No matter how awesome your video may be, if it sounds like poop… it is poop.
I've got a few good sound apps in my arsenal, but thanks to my recent gig as a guest-host on MacBreak Studio, I learned about a sexy waveform editing tool for your iPhone and iPad called TwistedWave Audio Editor ($9.99).
In addition to recording, TwistedWave will let you cut and paste audio, as well as add professional effects like compression, pitch shifting, time stretching, and normalizing.  Rather than babbling on about it, just check out the full episode of MacBreak Studio below.  In it, Steve Martin gives me (and you) a guided tour of the app!  Sweet!
To learn more about MacBreak Studio, check out the PixelCorps.TV site.
Zip over to Steve Martin's site, Ripple Training, to find a ton of high-quality, affordable training products. I just watched the Final Cut Pro X and Motion 5 training videos, and they rocked.
And, if you want to learn more about all the latest audio and music apps, check out the terrific Palm Sounds website.