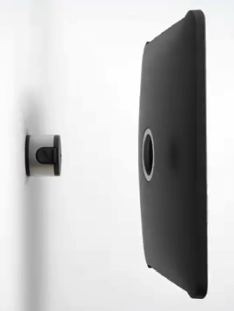 Similar to the modulR setup we showed you last week, here's Vogel's new iPad mounting system.  Using the system's various add-ons, you can mount your iPad just about anywhere.
The primary difference here is Vogel's use of a single circular plug that attaches to the back of their custom iPad case (instead of modulR's four node system). Vogel calls this their RingO Universal Mounting System. I liked the feel of Vogel's case, but it added some unwanted thickness to my iPad. Something else worth noting is that Vogel's system allows you rotate your iPad in place, after it's been mounted.
Having options is a good thing, so if you're looking for a fast and easy way to attach your iPad to your equipment case, your sound cart or edit bay wall, make sure to check out Vogel's offerings.