When Final Draft announced that they were coming to the Apple iPad, there was an explosion of buzz, rumor, and speculation. Along with the initial report came an invitation from Final Draft to anyone wishing to help beta test the app.  Naturally, I dropped everything and signed up.
Just days later, I received an invitation to participate in a Final Draft for iPad focus group. Needless to say, I was eager to get involved. That focus group was held at 10am this morning in Sherman Oaks, CA.  And, I'm happy to report that it generated a very productive and promising conversation.
They didn't ask us to sign any non-disclosure agreements, so I am free to talk about the session… but truth be told, they didn't reveal anything about their plans.  Instead, they asked some very pointed, and well thought-out questions.  That alone proved that they had already done their homework, and knew what most screenwriters would expect from the app.  And since they already had that foundation in place, they could zero-in with greater detail during these focus groups.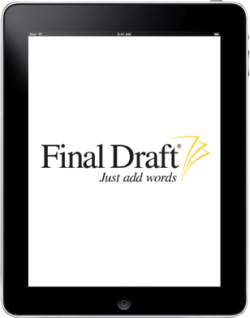 The group was very sharp, and there were plenty of great ideas bandied about. Almost everyone agreed that there needed to be seamless integration between the iPad and desktop versions of Final Draft. There were also several requests for cloud based file storage and the ability to sync wirelessly. Another overwhelmingly popular request was "page view" (being able to see the script as it would be printed), and not just "speed view" (an endless scroll of text). There was also a lot of time spent on the ability to read and annotate existing material.
All in all, I got the sense that the folks at Final Draft understand and agree that the iPad represents a whole new paradigm, with all new possibilities and requirements. They know it's not just an issue of taking the desktop version and mashing it onto the iPad. Therefore, I am very excited to see what they conjure.
Among the participants in today's session was Brian Gary, one of the hosts of the immensely popular MacBreak Studio.  He's also a trainer at RippleTraining.com, and author of several terrific technical books.  I've been a fan of his work for a while, and it was nice to meet him in person.  If you work in any of the Final Cut Studio apps, you should check out his stuff.
One final note about the group. Aside from the Final Draft Product Manager who was leading the discussion, and the student who was helping her, there were no women at this session. Perhaps that was by design. Perhaps not. But it did bum me out for two reasons. First off, there's no shortage of brilliant women who could help shape our digital landscape. And secondly… um….I'm single.  So… there you go.