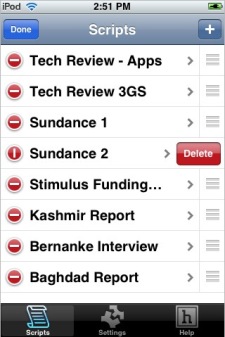 Bodelin has released an update for its outstanding iPhone teleprompter app, ProPrompter.  Version 1.2 brings some welcome changes, including new font sizes, additional scroll speeds (faster & slower), and the ability to switch your text to ALL CAPS.
When we reviewed the ProPrompter Wing a few weeks back, we would have loved more font sizes, and a faster scroll. I'm don't think the All Caps feature would have made much of a difference for us, but it's a nice option to have.
If you already own ProPrompter, don't hesitate downloading the update.  If you'd like to know more about ProPrompter, check out our previous coverage:
Teleprompter? I Barely Know Her!
Product Spotlight: The ProPromtper Wing.
And… just a heads-up.  Bodelin sent over their high-end, iPhone friendly, through-the-lens teleprompter hardware ("ProMag").  We'll be reviewing it shortly.  Stay tuned!
This app is now called ProPrompter Studio