Normally, we wouldn't get that excited about a 2.0 update, but in this case, we'll make an exception. Nexvio has just introduced a major update to their video editing app, ReelDirector. And it looks like many of our previous complaints have been addressed.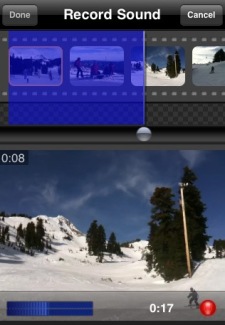 Version 2 introduces some great new controls, including the ability to lengthen the duration of the opening and closing titles.  We're VERY happy about this since the previous version's titles were way too short. Durations are adjusted with a slider in the Text Style panel.
Also new is the ability to trim and split your clips AFTER they've been added to the timeline.  Mighty handy for basic editing.
You can now add photos to your projects, complete with pans and zooms. Just set the start and end positions of your photo, adjust the duration, and Whamo! Instant Ken Burns effect.
Those are nifty improvements, but I've saved the best for last. You can now record your own audio tracks. MULTIPLE audio tracks, in fact. You can lay down music, and then add voiceover. Or record multiple passes of your children singing Happy Birthday to create a while choir (you'll need to experiment with timing). Whatever floats your creative boat.
You add audio the same way you add everything else — with the Add button. The app uses your iPhone's built-in mic (or an external mic, if you've got one). Once the audio has been recorded, you can slide it around the timeline with a simple finger drag.  The audio from the edited video clips remains intact, and is mixed in with the new recordings.
Overall, version 2 is a terrific update. Nexvio has listened to their customers, and delivered an app that should live on every filmmaker's iPhone.
This app has been removed from the App Store