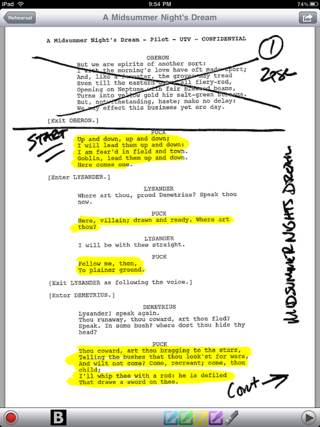 If you've seen me speak at industry events, then you already know I'm a big fan of Sotto Voce Film+Works' Rehearsal, an app that gives actors an irrefutable reason to purchase an iPad (or an iPhone).
At its core, Rehearsal is a script reading application designed specifically for actors who must memorize lines, or submit voice auditions via email. It works on iPhone, but really shines on iPad, since the screen is so much closer to the size of an actual script page. [UPDATE: Make sure to read the developer's comment below. He makes some great points about the benefits of using Rehearsal on an iPhone.]
Here's how it works. The user emails a script to a special email address. Once the script has been processed, it becomes available inside Rehearsal. The user opens the script, and uses the provided tools to highlight lines, add notes (text, voice or photos), and record audio performances. Once the user is confident he/she has the lines memorized, they can tap the Blackout button. Every line that was highlighted is instantly blacked-out, forcing the actor to perform the scene from memory. Nice!
Actors can record their performances using the built-in mic, then email MP3s right from the app — perfect for voice-over auditions.
Rehearsal was developed by professional actor, David H. Lawrence, XVII (Lost, Heros, and MANY others). It's clear that his years of experience have helped him craft this impressive app. Furthermore, David's connections in the acting community allowed him to beta-test Rehearsal with a-list talent on sets all over Los Angeles. Who ever said app development isn't glamorous?
Rehearsal is free, but it costs a small amount to upload scripts. Unlimited upload subscriptions are also available. The app comes with a free trial period, so you can try it out before committing to any additional fees. Considering how much actors spend on other recurring costs (i.e. headshots, reels, classes, etc.), this seems like a pretty minor expense for something of such potential value.