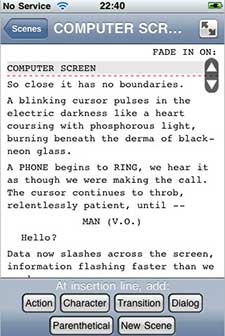 Sure they had it in there before, but now they REALLY have it in there.  With yesterday's release of Screenplay 1.1.5, you can now import and export your Final Draft scripts with full FDX support.  According to Black Mana Studios, the FDX data remains intact, and no longer gets all futzed up (my word, not theirs).
Also new is the ability to add multiple paragraphs BEFORE the first scene.  So, if you're aching to precede your masterwork with a quote from Shakespeare, or a recipe for Lobster Bisque, you can now do so with wild abandon. It might also be useful for character breakdowns, explanations of visual treatments, and other stuff.
The update also improves the FDX importer, and squashes a bunch of bug-a-boos.  So, if you got it, go get it!
If you'd like to read more about Screenplay, read our earlier coverage.
This app has been removed from the App Store