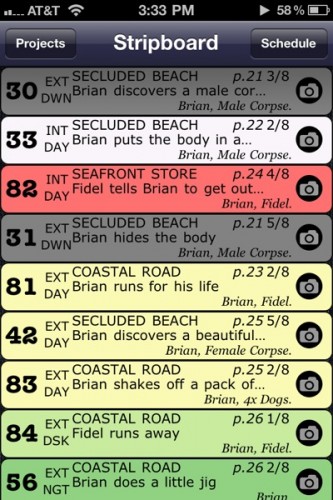 UPDATED: I just added a quick update about the newly released, version 3! It's at the bottom of this post.

Organization is key on any film set. Without it, production would descend into chaos. Fortunately, a new tool called Shot List can help you keep track of your shot lists while on set.
The setup of the application is very simple, so as not to get in the way of your workflow. But, don't let the simple interface give you the wrong idea. Shot list includes just about any feature you would need. The app combines some of the best aspects of having your shot list on paper with the benefits of a digital workflow.
When I started this review, Soluble Apps (ShotList's developer) was about to release v2.0, a major upgrade. I had the chance to thoroughly test the older version of the app, as well as the new version prior to its release. It's also worth nothing that Soluble Apps plans to keep providing updates in a rapid fashion as the app approaches its 3rd major version. ShotList is a universal app, which performs the same way on both the iPhone and iPad.
When you first open ShotList, you're presented with a few standard options including Share, Support and the ability to Select a pre-existing project. Once you have a project open, you can assign every shot a color code that indicates if the shot is To Do, Delayed, Cut, and Done. Further organization is accomplished as ShotList color coordinates the location of the shot and the time period.
The app is set up to to allow for minimal repeat typing, as just about any data you enter into the app can be added to each shot.
Another feature allows users to attach up to six storyboards to each shot on your list. To remain truly mobile, you can use a drawing application, camera roll photos, or photos you take on the spot from within ShotList. I imported shots I took from within Artemis Director's Viewfinder so I could have a very informational set of data all in one.
When it comes time to export, you can send your shot list through email or Dropbox (use this link to get an extra 250mb on a new free Dropbox account). Exporting doesn't include the storyboards at this time. Exporting through email only uses the iPhones contacts, no custom contacts. You can also import shot lists into the app from Dropbox, which can be especially handy when sharing documents with your director.
This application is a valuable tool for any Assistant Director looking to take a load off. I look forward to seeing what changes come to the App in the near future.
It's worth pointing out that there is another great stripboard application on the App Store called Movie Magic Scheduling To Go which works hand-in-hand with the desktop version of Movie Magic Scheduling used by most assistant directors on professional productions. In fact, it requires the desktop version. However, if you're NOT already working with Movie Magic Scheduling on the desktop, and you're looking for a quick, self-contained, elegant solution, then Shot List is your app. Nothing else comes close.
UPDATE:
Update on Sunday, December 11, 2011 at 2:03PM
Version 3.0 has Arrived. Below are a few of the major new features, as well as a full change list. http://solubleapps.com/2011/12/05/shotlist-3-0-stripboardreleased/
Fast Move Between Strips
You can now move directly between strips from the Details page by swiping up or down with one finger, this moves to the previous or next strip in your current shooting order.
Fast Move Between StripsYou can now move directly between strips from the Details page by swiping up or down with one finger, this moves to the previous or next strip in your current shooting order.
Accessing Notes
You can now edit or view notes by tapping them, just like the other panels on the Details page. On the Notes page you can scroll forward and back with a swipe, or tap to activate hot links for phone numbers or web addresses.
To edit notes, tap the button at top right.
Returning To The Stripboard
When you return to the Stripboard page from the Details page, the strip you were editing will flash briefly in blue to help you locate it.
Show Notes In Oneline Schedule.
You can now output notes with the oneline schedule if you wish. Simply enable the slider for "Include notes", and any notes that exist for a strip will be added to the schedule output. We also fixed a bug where the total number of pages wasn't displayed correctly for each day.