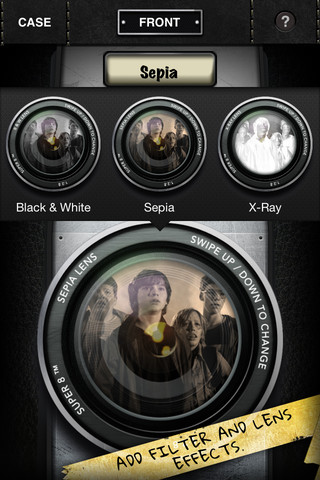 Back in June, when Paramount Pictures unspooled Super 8 (J.J. Abrams' Spielberg-esque, alien invasion retro-flick), Paramount Digital Entertainment released the Super 8 camera app. Intended to promote the film, the app allowed iPhones owners to capture video, and have it treated with a variety of classic super 8 looks. Users could even string clips together to do some basic editing. Fun and functional!
Now, with the release of Super-8 on Blu-Ray, the Super 8 app has received a major update. Version 2 focuses heavily on sharing, and includes features for posting to YouTube, Facebook, and Twitter. You can also email your "films." The update also brings some usability enhancement. For example, the lens tray lets you apply a look a little easier than before — at least, it's supposed to.  When I tested it, the new lens tray didn't work at all.  I'm sure it will be patched in the next update.  The old way of picking lenses still worked fine.
They've also added new Fisheye and Posterize lenses. On top of that, the developers say the app will render your finished flicks even faster. The update is free for existing users, so go grab the update! If you don't have it yet, Super 8 is absolutely worth checking out. Now if you'll excuse me, I need to go fake some old Bigfoot footage.
If you're curious to see an alternative to Super 8, check out our coverage of another great app, 8mm.