How's that for a provocative title? I was thinking of calling this posting, "Will iMovie for iPhone drag the other iPhone video editing apps, kicking and screaming into a dark ally and then shiv 'em?", but I didn't want to be gratuitous.
Let's cut to the chase. NO. iMovie will not kill 1st Video (consumer version) or ReelDirector, the two reigning champs of video editing on the iPhone, but it may put them on life support if they're not careful. Now that Apple will be pushing its own video editing app, 1st Video and ReelDirector will have to work harder to find an audience. But that's not necessarily a bad thing.
Sure, soccer moms and proud pops will find iMovie plenty powerful. But those wishing to do more, and push past Apple's limited feature set will have to look elsewhere… and that's where 1st Video and ReelDirector will thrive.  So long as Vericorder (developer of 1st Video) and Nexvio (developer of ReelDirector) continue growing the feature sets of their respective apps, they can carve out a loyal user-base of professionals and prosumers.
Think about this… Apple released a camera app and it worked fine. Then they decided to open up the camera to outside developers. Suddenly there were boatloads of mega-powerful camera apps, blowing past the functionality of Apple's native app. TapTapTap just released a great looking one called Camera+.  The same is bound to happen with video editing, but in this case, 1st Video and ReelDirector already have the edge.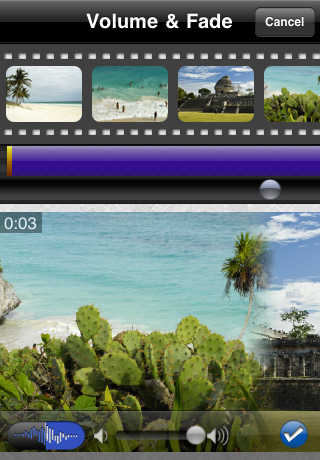 ReelDirector, which just added a host of great new features in its version 3 release, is in a slightly more precarious position since it appears to be aimed at the same audience as iMovie.  1st Video, on the other hand, has a slightly more professional audience in mind.
Another significant factor in all this is whether or not iMovie will work on the iPhone 3Gs.  If it doesn't, 1st Video and ReelDirector still have a growing audience (Apple just knocked the price of the 3GS down to $99). We'll know more about iMovie's compatibility soon.
Another one of our favorite products sure to take a hit in sales is the Quirky Beamer iPhone case.  HHH featured this little gem after finding it at the CES convention earlier this year. The Beamer features a built-in led light that can be used to shoot video in low-light environments.  Now that the iPhone 4 has this feature built-in, the Quirky case is only valuable to those with the iPhone 3GS.