So you've read a few screenplays on your iPhone, and now you're finally ready to write one of your own. Outstanding!  But before you carry that 40-year-old IBM Selectric typewriter with you on the subway, let us suggest an alternative.
Thanks to some pretty impressive coding by the folks at Black Mana Studios, you can now write a fully structured screenplay on your iPhone using their app titled, appropriately enough, Screenplay. And because it's on the iPhone, you can write wherever and whenever inspiration strikes.
If you're used to writing with a full-blown screenwriting applications like Final Draft, you may become frustrated with Screenplay's lack of advanced features.  But there are certain advantages to Screenplay's simplicity.  For one thing, you won't have to learn a ton of keyboard shortcuts.  It's all done with buttons, menus and icons.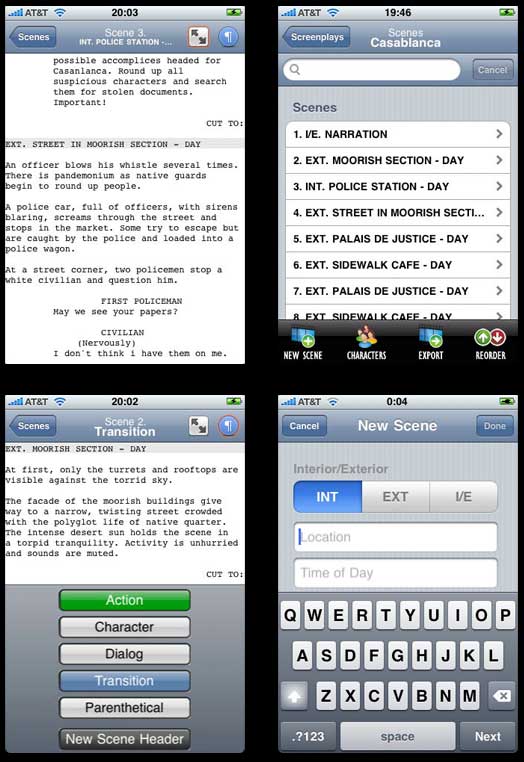 You start by setting up a new script.  From there, you can choose to add new scenes or characters.  Adding a character is incredibly easy.  You just punch in their name.  From then on, Screenplay is smart enough to know when you're trying to enter that character's name in your script, and it will offer to complete the name for you, saving you several finger taps.
Adding a new scene is just as easy.  First, you press a button to pick Interior, Exterior or both.  Then you enter the scene's location and time of day into the corresponding fields. Once the scene has been added, you can then edit its contents.  You can designate the formatting of a paragraph by tapping the format button in the upper right.  Now you can decide if that paragraph should be structured as Action, Character, Dialog, Transition, Parenthetical, or a new Scene Heading.
When you're ready to export your finished masterpiece, Screenplay will email the script as an attached text file. Once you get it on your computer, you may have to tweak the font and formatting slightly.
There's a little more too it, but that's all you need to know to get started.
The developers are already hard at work on a new version which they claim will improve the user interface. Anything that saves us key taps is a welcome change.
This app has been removed from the App Store