Do you yearn to become the next D.W. Griffith? Are you itchin' to release your inner Chaplin? Well, it's time to unleash The Artist within you! Why? Because MacPhun, developer of Silent Film Director, has officially launched The International Retro Film Contest!
You'll find all the contest details below, but first let me tell you about the app that started it all.
Silent Film Director for iPhone (currently $0.99, 50% off the normal $1.99) turns your iPhone, iPad, or iPod Touch into an awesome retro-style movie camera capable of churning out footage that feels like it should be stored in a 90 year old film tin.  You start by shooting from directly within the app, or by importing clips from your camera roll, and then applying a variety of vintage effects including:
20's movie
60's home video
70's home video
Black and White
Sepia
Vintage Sepia
From there, users can add vintage piano music (several cues are provided) and projector noise.  Take your creation one step further into the past by altering the film's speed.  The app will even allow variable speed (i.e., a fast start with a slow ending, etc.).
The app can shoot in full HD if your iThing supports it (I'm looking at you, iPhone 4S). When you're done creating your 'silent' masterpiece, the app can upload it to YouTube & Facebook, email it, and save it to your camera roll.
But wait, there's more… Silent Film Director has a Pro mode (available via a $0.99 in-app purchase) that lets users perform basic edits with multiple clips and still images using 8 types of transitions (the non-Pro version limits users to working with one clip at a time).  The Pro upgrade also allows users to create vintage title cards with five different retro fonts — a must for 20's recreations.
[vc_video title="" link="http://www.youtube.com/watch?v=kXcMhT9bhRE"]
You can view many more sample clips on the Silent Film Director's YouTube channel.
One important note: According to the developer, the new version of Silent Film Director may not work with iPhone 3G and will require iOS 4.2 and later.  So, if you're sportin' a 3G, here's another reason to consider sportin' a 4S.
Now, about the contest…
ABOUT THE CONTEST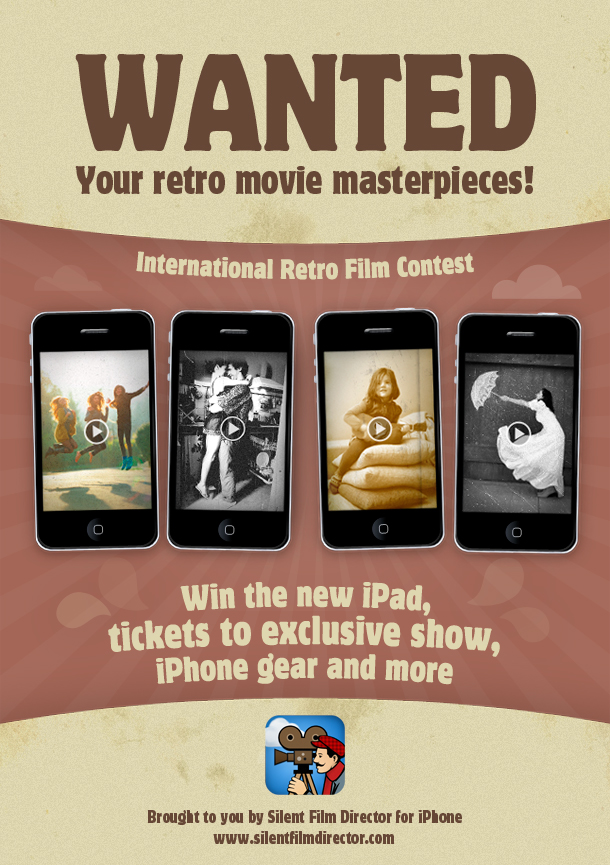 The rules are straightforward: Use Silent Film Director on your iDevice to create a creative film up to 3 minutes in length, and then upload it to the contest from within the app on or before May 28th.  You must also share your film on the Silent Film Director Facebook page.  There are a few more rules on the contest's website.  If you're thinking of joining in the fun, you should give 'em a read before getting started.
Prizes include a brand-spankin-new 32gb WiFi iPad (yes, the new one), tickets to a special screening of "Napoleon" in San Francisco, and some nifty iDevice accessories.
The contest organizers are planning on adding more prizes as the deadline gets closer.
The gang at MacPhun has assembled a group of judges that includes the founder of smartmoviemaking.com, two silent film experts, and the president of the San Francisco Silent Film Festival.
Winners will be announced on June 1st.  There will also be weekly winners, so feel free to enter more than once (with different movies, of course).
Hand Held Hollywood is happy to be a media partner with MacPhun, and we plan on keeping you posted as the contest progresses.  Enter now and stay tuned!

Update: As you may have noticed, the name of the contest has changed. It was originally called the International Silent Film Contest. I suppose 'Retro' covers more ground. So, in summary: name=changed, contest=same.