If an iPhone, a PSP, a netbook, and your TV all fell into a Cuisinart, you'd be left with Apple's new iPad.
Essentially, the iPad is a large-screen iPhone with lots of computing mojo…which is fine by us!  We've often said, "this app is great, but the screen is just too small."  That limitation may have just disappeared.
Weighing in at 1.5 pounds, with a 9.7 inch display, the iPad is certainly small and light enough to bring on a shoot or into a crowded edit bay. It comes with between 16 and 64 megs of flash ram, and can run 10 hours on a single battery charge (according to Apple).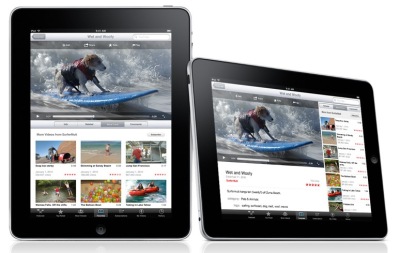 Naturally, it will run new software developed especially for the iPad's larger screen, but it will also run your existing iPhone apps by expanding them to fill the screen.  Outstanding!  That means you'll be able to use your favorite apps right away, with less eye strain… and then, a short time later, you'll be using a revised, iPad friendly version. Sadly, we didn't get the long-rumored webcam… so no on-location video conferencing.
It comes with a pile of nifty looking apps, but it will be 3rd party developers that truly turn the iPad into a mediamaker's best friend.  Naturally, you can expect full coverage of those developments on HHH.
There's plenty of web sites devoted to all the technical details, so I'll leave that stuff to them.
The iPad starts at $499, and goes up to $829 for the fully loaded version (max ram and 3G connectivity). Apple claims they'll start shipping in 60 days, so you'd better start saving your pennies now!
For more information about the iPad, swing by Apple's web site and Gizmodo.