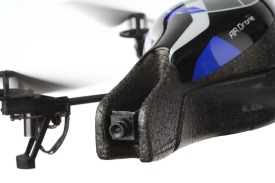 3D Televisions? Pffft. Tablet Computers? Whatever. eReaders? So 2009.
This year, the hottest item on the show floor was a toy. A kick ass, iPhone controlled, flying quadrocopter! This is the Parrot AR Drone, and it is awesome. But what does it offer the HHH filmmaker? How about two on-board cameras for starters. They haven't released any availability or pricing info yet.
Check out the video for details about those 2 cameras!