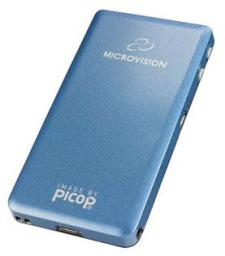 At times, it felt like little video gnomes had snuck into CES, and stashed tiny iPhone compatible projectors all over the place!
…and most of them sucked — out of focus, colors from hell and the luminance of a black hole. But then I found the Microvision Show WX, and my faith in video gnomes was restored.
The Show WX boasts some decent specs:  WVGA (848×480) resolution, 120 minute battery life, and sharp images from 6 inches (or less) to 16 feet (or more).  And since it's laser based, there's no need for a focus knob. It's always in focus.
The only downer is its lack of an on-board speaker. Instead, the Show WX gives you a stereo jack that can be used with external speakers (or ear buds).
Check out the video to learn more, and see it in action.