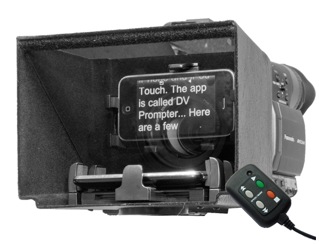 It was a slow year for iDevices at this year's DV Expo in Pasadena (thought not as slow as last year). Overall, the DV Expo a great show, but it's been a little light on iOS products.  Only one company snagged my attention.
Datavideo was demonstrating two solid-looking mobile teleprompters. The TP-200 for iPad seemed versatile, and had some nice features, but it was the TP-100 for iPhone that won me over.  It's the first professionally-made direct-to-lens teleprompter I've seen for smartphones.
Check out the video for more details.