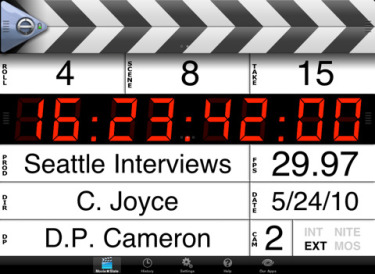 One of our favorite iPhone apps just graduated to the iPad.  Not only is it bigger, and prettier, Movie*Slate 2.0 has added some very impressive, and professional features.  Rather than just list the new bells and whistles, I decided to contact the app's author, Cliff Joyce of Pureblend Software... and let him list all the bells and whistles.
Here's what Cliff had to say.
HHH: What features have you added in MovieSlate 2.0?
CJ: Timecode Sync from Camera. Run an audio cable from a camera or timecode generator to the headphone jack of your iDevice (iPad, iPhone, iPod touch). MovieSlate then acquires the external timecode.
HD-Optimized for iPad. Since the iPad is about the physical size of a traditional clapperboard, this made tons of sense.
Optional Data Fields. The main slate screen now supports six additional data fields. To access the fields, swipe the clappersticks or timecode display to scroll them left/right.
Customizable field labels. Each of the optional data fields can use your own custom labels. The labels appear in shot logs, and can be unique to each shot or production.
Create notes before starting a shot. Previously you could make a text, image, or voice note after starting or ending a shot. Now you can make a note beforehand.
ColorChart and GrayCard. The slate now has buttons to display these charts full screen. Tap anywhere on a chart to dismiss it.
Many smaller fixes and user interface improvements that add up to a more enjoyable, streamlined experience.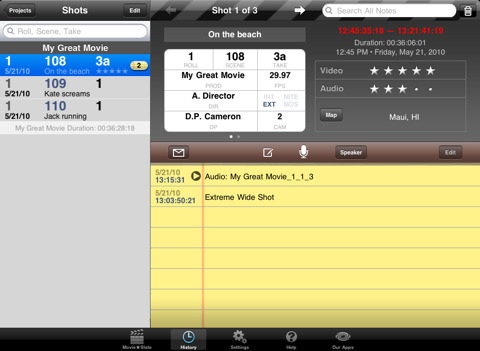 HHH: What feature request did you hear the most after your initial release?
CJ: Hand's down, Timecode Sync from Camera (LTC-IN). As easy as we made it to manually jam timecode, professional filmmakers told us that they really wanted a more automated solution for acquiring timecode.
Our sync solution works with any camera or timecode generator that supports LTC output. With LTC output, the camera sends timecode data as audio pulses through a patch cable.
I think our implementation is pretty slick. The camera's timecode is displayed in MovieSlate and stops/starts when the camera does. When you unplug the audio cable from the iDevice, MovieSlate auto-jams the timecode. Plug the cable back in, and MovieSlate acquires the live timecode signal again. You can also force-jam the timecode using an onscreen button.
HHH: How difficult was it to add the timecode syncing functionality? What sort of testing did you do?
CJ: Yeah, it took a significant amount of engineering– and testing. We had a pretty large group of industry professionals who pitched in as beta testers, subjecting the feature to a variety of cameras and workflows. We learned a lot from them, and cannot thank them enough for their invaluable feedback.
HHH: So you consulted with professional filmmakers while developing MovieSlate 2.0?

CJ: Yes, for both design and testing. Many MovieSlate users have requested features to help streamline their workflow, and have been kind enough to send us detailed workflow descriptions. We've discovered that there's really no standard way of working, and have therefore tried to make MovieSlate very very flexible.
HHH: Why did you choose to make the timecode syncing function an in-app purchase?

CJ: We have a significant engineering investment to recoup. We realized that not everyone can use or needs to use the timecode syncing feature. So to hold down the app's base price, we decided to offer the Sync Timecode from Camera "PRO" module is an optional $49.95 in-app purchase. For PRO users, the price point is quite reasonable– particularly when contrasted with the cost of a traditional digital slate– or even a desktop application.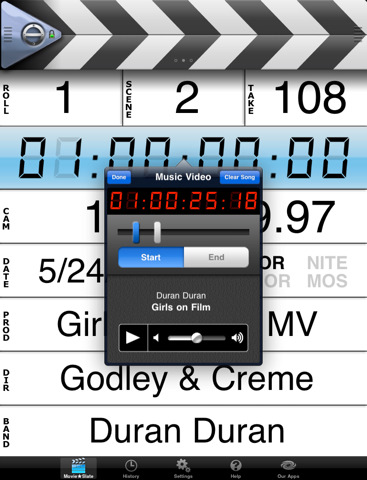 HHH: You had originally planned to release an iPad only version called MovieSlate HD. But instead you've released MovieSlate 2.0 as a universal app, able to run on both the iPhone and iPad. What changed your mind?

CJ: Two things.
First, many of our customers use MovieSlate on more than one device. With the current App Store architecture, publishing two separate apps would require users to pay twice for in-app purchases of PRO modules (like the "Sync Timecode from Camera" capability). We think that's not a good way to treat customers.
Second, we wanted a more unified feature set for both the large screen (iPad) and small screen (iPhone, iPod) versions. When we began the "HD" version for the iPad, we re-envisioned how people interact with every aspect of MovieSlate, given the iPad's larger screen real estate. Funny thing is, some of that thinking spilled over into the smaller screen version as well. It actually made more sense to join the two apps into a single, unified code base.
HHH: Are there features you had hoped to add, but couldn't?

CJ: Yes. Frankly, high demand for the iPad version and LTC-IN module influenced our decision to release those features ASAP. Here are some features that didn't make it into the 2.0 release, but that we're working on right now:
LTC-OUT. Sync timecode to Camera. This will turn MovieSlate into a full-featured timecode generator (at a fraction of what we paid for our Horita TC generators!). On a multi-camera shoot, you could audio cable connect your iDevice to several cameras and audio recorders, then use MovieSlate to send the master timecode to each.
WiFi Timecode Syncing. It would be great to wirelessly transfer timecode data. We do this now between iDevices over Bluetooth. But doing it over WiFi potentially allows us to connect to other kinds of devices like Macs and cameras.
Enhanced Music Video system. During beta testing, we heard from many music video production companies. They gave us some really cool ideas on improving MovieSlate for their workflows.
HHH: What other apps have you developed?

CJ: After we published MovieSlate, we heard from lots of kids and parents who wanted a customizable slate to use for fun in home moviemaking. So we wrote MovieSlate's silly little brother, ToySlate.
Music is a huge interest here at PureBlend. The iPod app works really well, but we all wanted a music player with quick access to everything on one screen; with gestures to quickly change songs without looking (while driving) ; and a customizable user interface with themes. So we developed TuTuneMe.
We're interested in speeding up text input, so we wrote a template-based mail merge program called Maildash to send emails and text messages as quickly as possible.
Like any self-respecting App Store developer, our first app had to be either a Fart app or a Tip Calculator. We're a classy bunch, so our tip calculator is called BigTipper (based on one I wrote for the Newton. Remember the Newton?). BigTipper also saves meal tickets for expense reports.
We've also written a number of apps for larger companies which are not published as PureBlend products.
HHH: Any plans to develop more apps for mobile media makers?

CJ: Yes. We're working on more MovieSlate modules, and have a few other movie making app ideas.