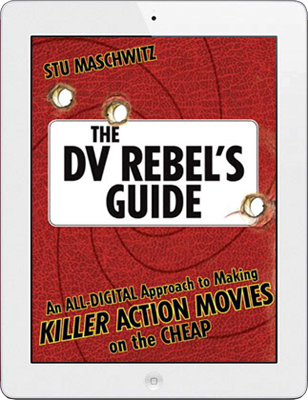 Like most directors, my shelves are lined with books about film theory, story structure, shot construction, and production techniques.  Among my favorites are Lew Hunter's Screenwriting 434, Hitchcock's Notebooks, Rebel Without a Crew by Robert Rodriguez, and Christopher Vogler's The Writer's Journey.
Yup, I've bought a LOT of books for myself over the years.  But, there's only one book I've bought for other filmmakers. In fact, I think I've purchased copies for about 15 friends so far.  I've done this because this book should be read by every filmmaker on earth.
I'm talking about The DV Rebel's Guide by Stu Maschwitz.
Now that the Rebel's Guide has been released for the iPad and Kindle, I finally have an excuse to rave about it on HHH!  To celebrate the launch of the epub version, Stu is giving away some related After Effects goodies on his site.
I won't go into too much detail (that's what the AppStore and Amazon are for), but I will say that the book clearly explains the techniques and tools required to achieve Hollywood-style results on backyard budgets. It's geared towards action movies (there's a whole section on guns), but any media maker will benefit from the read.  I especially loved the chapters on post workflow and color correction.  I found the shot breakdown of La Femme Nikita to be, for lack of a better word, inspiring.
The Guide was originally published a few years back, before people started shooting HD video on their iPhones and DLSR cameras, but the book's information remains relevant, and Stu's guidance is just as motivating.  By the way, if you don't know who Stu Maschwitz is, you need to get out more.
So, if you've been looking for a reason to finally launch iBooks on your iPad, let this be your excuse.
Go get it. Go read it. Go make movies.