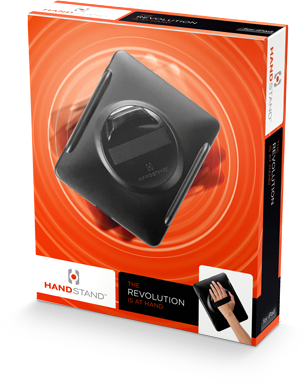 Not all iPad cases are created equal. In fact, most are created craptacular. Fortunately, once in a while, a case comes along that really shines. And today, that shining case is the HandStand.
Available for iPad 1 and 2 ($49.95), the HandStand allows users to strap their iPad to their hand — perfect for someone who is constantly on the go, but is always accessing their iPad. Unlike other hand-strap style cases, the HandStand feels rugged and built-to-last. Bringing any gear to a film set is a risky proposition. Things get knocked around all the time. That's reason enough to consider the HandStand when shopping for your next case.
When I first saw this case back at Macworld, I immediately thought of A.D.s (Assistant Directors), Line Producers, and U.P.M.s (Unit Production Mangers). I recently worked with an A.D. who accessed his iPad as much as his walkie talkie…and that's really saying something. I think the HandStand would have made his life considerably easier.
There are other advantages to the HandStand (like, why it has the word stand in its name), but I won't ruin the surprise. Check out the video below for my full review.