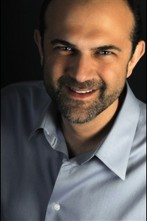 The Digital Video Expo is back at the Pasadena Convention Center, and I've been asked to give an HHH presentation! I'll be hitting the stage (a.k.a. slightly raised platform) on Thursday at 2pm, and will be leaving the stage 45 minutes later (or sooner if they get sick of my accidental swearing).
As you might expect, I'll be yapping about the latest production apps & accessories for your iPhone and iPad. If you're a mobile filmmaker, you'll totally dig it.
But wait, there's more!
I'm not the only one who's gonna be presenting. The Expo has a room set aside for a whole day's worth of mobile app presentations! I have no idea who else will be presenting throughout the day, but hopefully it will be a good group.
So, if you're going to be in Pasadena, or you're already planning on attending the DV Expo this Thursday, make sure to stop by Room C at 2pm and say hi! I'll be the frantic guy on stage.
As always, make sure you check the Expo's website for pricing info before you make the drive. If you're flat broke, you should still come to the expo. You won't be able to see the presentations, but the exhibit hall is totally free… and free don't suck.
See you there!
-Taz