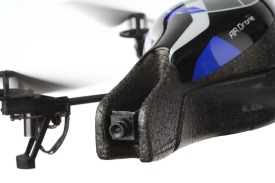 A while back, we told you about Parrot's AR Drone Quadracopter, an iPhone controlled flying thing-a-ma-bob. One of its coolest features was the ability to wirelessly transmit video from two onboard cameras directly to the controlling iPhone.  In other words, it's a hovercam!
We speculated that under the right circumstances this amazing gizmo could be used to fly in, over and through just about any set or location in order to get relatively inexpensive aerial footage.
But that fantasy was cut short when a Parrot representative told us that they would not be developing any apps that could record the Drone's transmitted video.  However, since then, Parrot released an SDK, allowing other developers to write apps for use with the Drone. And wouldn't you know, someone wrote an app to record the transmitted video!
The app is called Flight Recorder.
There's good news and bad news.  Bad news first: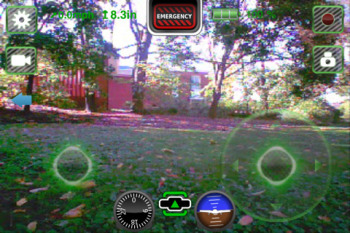 The recordings are limited to 320×240 resolution at 15 frames a second (the same frame rate that's transmitted from the Drone). There's probably certain conditions under which these specs are useable, but clearly the AR Drone and Flight Recorder are not quite ready to collect professional footage. However, I can see using this setup for pre-visualizations and tests prior to renting expensive flying camera gear.
The good news is that the app is only $4.99. So, if you've already dropped $300 on the Drone, I can't think of a good reason not to spend another five bucks for the ability to record potentially useful aerial footage.  The app has some pretty strict requirements, so check 'em out before making the purchase.
You can watch our full CES coverage of the AR Drone right here.
You can pick up your own AR Drone over here.
You can view a bunch of YouTube videos from Flight Recorder users right here.  I've embedded one example below.
Now, about those hovercars…