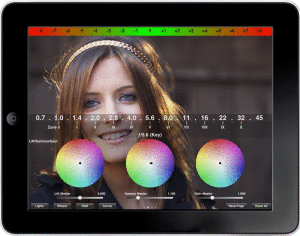 I thought I'd kick off my absurdly delayed NAB coverage with one of the coolest finds on the show floor.
Image Control from Gamma & Density is an iPad app designed to facilitate on-set color correction. After shooting to a digital file format, you can dial in your color correction using familiar controls. That correction can then be transmitted to your post production team — giving them a time-saving head start on the final correction.  It's a great way for directors and DPs to quickly and efficiently communicate the desired look.  Often times, simply describing a look to your colorist doesn't always work (believe me, I know).  But showing them… that almost always works!
If a picture is worth a thousand words, a color-corrected picture (with a detailed report) is worth a million words.  Simple math.
The app is due to be released very soon, with an approximate price of $400.  Yup… $400. A little pricy? Sure, but wasting time in a professional color-correction bay can cost a whole lot more than that! In the right hands, this app can save money, and insure the best results.