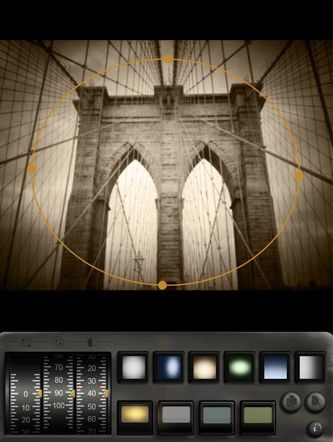 I am a BIG fan of Red Giant Software. They publish a ton of incredibly useful desktop apps and plugins for filmmakers and motion graphic designers.  Now, I'm excited to report, they've introduced a couple iPhone apps that are sure to make mobile filmmakers happy: Noir and Movie Looks.  Both were designed (at least in part) by one of my heros, Stu Maschwitz.
Noir ($2.99) helps you "re-light" photos, letting you call attention to what's most important in the image. After tweaking your photos, you can then import them a storyboarding app like Storyboard Composer. With Noir's help, you can create far more effective, focused storyboards.
Movie Looks ($2.99) is like a mini, pocket-sized version of Red Giant's Magic Bullet Looks. With Movie Looks on your iPhone, you can import video clips and apply pre-defined color grades ("looks"). There are plenty of other apps like this in the app store, but most of them aren't especially good — more gimmicky than useful.  Movie Looks, on the other hand, features some very well designed color grades. But, even the best grade won't help crap footage (that parts up to you).
Here's a video demo of both apps. There's a slight bit of overexposure in the beginning of the Noir demo, but you'll still get the idea.
If you've created any storyboards with Noir and Storyboard Composer, or color graded any footage with Movie Looks, share the links in the comments below!