Everyone is pitching something. Writers pitch scripts, producers pitch proposals, and actors pitch themselves.  It's an endless cycle of closed-door appointments and conference-calls. But it's the unexpected meetings that seem to provide the greatest rewards. I'm talking about the chance encounters in the supermarket, at the gym, or in a crowded elevator. The key to success is being able to pitch your wares at a moment's notice. You can't rely on your iPhone, or any other gizmo, for that. It's up to you, and your sparkling personality. But, the iPhone will save the day with what comes next:
Followthrough.
Imagine you're a struggling writer. You're chatting up a producer you just met at McDonald's (yes, producers eat there too). You mention your new screenplay, and he seems interested. He gives you his card. The moment you turn to walk away, you whip out your iPhone, tap a few keys, and, presto! You've just emailed him your script, bio, and vCard. Now picture yourself as a struggling actress. You've just met a director at the Laundromat. He's currently casting an indie comedy, and asks for your headshot. You tap on your iPhone, and instantly email him your newest photo and resume…all before you take your socks out of the dryer.
In my experience, not only does this instant followthrough prevent missed opportunities, but it also impresses the hell out of people (especially if they see you doing it).
So, which iPhone apps can help? A lot of them, actually. Just about any app that can email a file (or a link to a file) will do the trick. We'll focus on three in particular. But before we continue, let's review the necessary preparation.
It's easy to send a single file, but if you want to send multiple files (i.e., a PDF, a vCard, a small video clip, and a jpeg), you'll need to compress everything into a single ZIP file.  Got it? Good.
Here's our three favorite apps that deliver the goods.

Dropbox (free)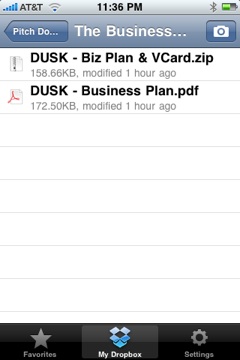 To use this app, you must already have a Dropbox account. If you're unfamiliar with Dropbox, it's essentially a way to share files between multiple computers and users. You can get a two gigabyte account for free right here.
The process is remarkably simple. Just select the desired file from your Dropbox storage, hit the mail button, enter your recipient's email address, and hit Send. You also have the option to edit the email's subject and message content. This is a great way to make the email a bit more personal. Your recipient will receive an email with a link. Once they click the link, your file will be downloaded to their computer. The link will expire after 30 days.
The app also offers the ability to mark any file as a favorite, making it quickly accessible under the Favorites tab.

MobileMe iDisk (free, but service is $99/year)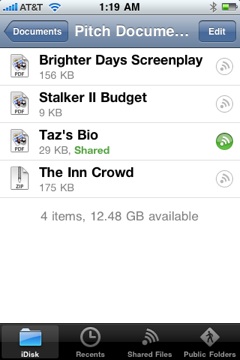 The MobileMe app is a little slicker and offers a couple more options. But, it comes with a few frustrations as well. Unlike Dropbox, MobileMe is a paid service ($99 a year).
Sending a file is a breeze. Just tap the icon to the right of the file you want to share. Enter your recipient's email address, and hit Send. With MobileMe iDisk, you can't change the email's subject. Additionally, the app will not autosuggest names from your built-in address book (although you can pick them manually). On the brighter side, you do have the option of adding password protection to the file. You can also customize the link's expiration date. And coolest of all, you can revoke your recipients ability to view the file at any time… just in case you change your mind.
As with Dropbox, your recipient will receive an email with a link to the shared file. The email is contains some nice graphics, but also displays MoblieMe branding.
With Dropbox you can share a file with as many people as you'd like. With MobileMe iDisk, a file can be shared with only one person at a time. There are work-arounds, but they're not worth the trouble. This limitation could be a deal-killer for some of you.

BeamME Pitch Document Sender ($5.99)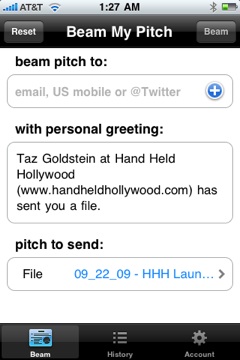 The last app is quite different. It's only meant to send a single PDF, Word, Powerpoint, or text file (no ZIPs). However, it will automatically include your vCard (customizable within the app). Another significant difference is that beamMe will only manage one document at a time. You can send it to as many people as you'd like, but, you'll only have one document you can send. So, if you have more than one pitch, forget this app.
To get started, you'll need to upload your document to the beamMe servers using a provided link. After that, you're ready to launch the app, enter your recipient's info, customize the message (but not the subject), and hit Beam.
So why would you consider using this app over the others? First off, the document and vCard are sent as attachments to your email, instead of links. Some people prefer this since it means less hassle for your recipients. The emails are fairly slick, but include a tiny bit of marketing.
The second reason to consider beamMe is that it offers the option of sending links (not attachments) to the recipient's mobile phone (as a text message) or to their twitter account. The links expire after 2 weeks.

CONCLUSION
It's only a week old, but Dropbox is my new favorite. I love that it can handle any number of documents, and allows me to customize the emails. It provides quick access to important documents via the favorites tab. I don't need the password protection of MobileMe iDisk (although I would like its customizable expiration dates). Dropbox provides a trouble-free experience, and is 100% free (up to 2gb). What's not to love?
That said, I'm keeping beamME Pitch on my phone. It's a smooth app that shows promise. Hopefully, the developer will add the ability to manage multiple documents.
So pick up one of these apps, and prepare your pitches, because you never know who you're going to bump into at Starbucks.
Do you use a different app for sending files?  Share your experiences below.