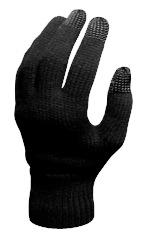 It's often said, "Cold Hands, Warm Heart."  However, it's also said, "Gloved hands, iPhone no worky."  That's because the moment you put on your winter mittens, your iPhone's touchscreen no-longer senses your fingertips.  So, you've got to pull off the gloves every time you want to tap, flick or pinch.
Fortunately, Dots Gloves has found a way to keep your hands warm, while keeping your iPhone fully functional. The magic is in the material.  I put 'em on, and was able to use my iPhone's touchscreen without any issues whatsoever.
I wish I had a pair of these last week when I was directing a late-night shoot on the beach.  I was freezing my.. um… hands off.  And I had to de-glove every time my iPhone rang.  That, my friends, sucked.   I haven't tested these gloves in cold weather, but it's on my list of things to do.