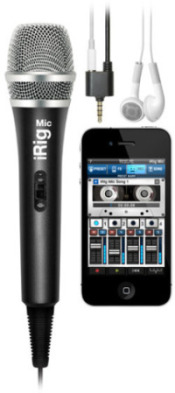 Here are a couple new products from IK Multimedia that should appeal to iDevice owning voice actors, voiceover artists, and soundtrack singers.
The first is the iRigMic, a handheld microphone that plugs directly into your iPhone or iPad. It's even got a headphone jack built in to the connector.  I tired it out at their booth, but the show floor was way too noisy to judge the iRig Mic's sound quality.  Hopefully they'll be sending a review unit my way.   They were demonstratingtheir mic with their recording app, VocaLive (not yet released in the app store).  It looks nifty, but I'm hoping other apps will utilize the mic equally well.
Next up is the iKlip, a mount that attaches your iPad directly to a mic stand. THIS I dig.  I can't tell you how many times I've had to change the script in the middle of a voice-over session.  With this mount, I'm no longer forced to quickly scribble the new copy in my illegible handwriting.  I can just type in the changes, and mount my iPad right in front of my voiceover artist.  Nice!  I think this will also be a big hit with musicians, but that's a story for another web site.