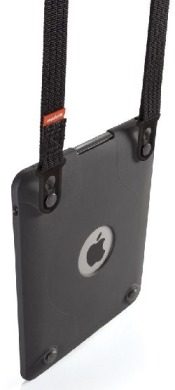 When I'm on set directing, I don't want any unnecessary distractions… like losing my iPad.  Which is exactly what happened a couple of months ago.  It turned up during a company move, but for those few hours it was missing, I was totally stressed.  I joked about making a custom strap, so I could sling my iPad over my shoulder like a laptop bag, or around my neck like Flava Flav's watch.  Looks like someone beat me to it!
If you're an Assistant Director or someone who's always running around set with your iPad, check out the modulR iPad case. It's sick! With its multiple straps, stands, mounts and grips, the modulR case makes it easy to hold, hang and position your iPad just about anywhere.
To make their modulR case even more filmmaker friendly, they'll soon be releasing a mount based on the 1/4″-20 universal standard.  This is a good thing.  A very, very good thing.
I would just like to point out, that had I finished my own version, it would hung on a think gold chain with a diamond-encrusted emblem that read, "Dywrektr!"