Mobile media moguls just got an early Christmas present.  Apple has announced the new iPhone 4 with a sweet looking, built-in HD Video camera.  It will capture 30p video 1280 x 720 (not 1920 x 1080).  Disappointed it can't record 1080?  I'm not… at least not yet.  I've got several consumer video cameras, all claiming to shoot 1080p… which the do… and they also suck great big bags of ass (I'm looking at you, Kodak Zi8).  So, what good is 1080 if the quality is terrible? I'm hopeful that Apple stuck to 720 because they know they can do it well.  Then again, if their HD video looks lousy, I'll be doubly bummed.
The new iPhone boasts a built-in led video light (that also serves as a flash for low-light photography), and a long overdue tap-to-focus feature.  In addition to the standard rear-facing camera, the iPhone 4 can also shoot video using it's front-facing camera — handy for intimate, personal, soul baring videos you intend to post on youtube.com.  The front facing camera isn't HD, however.  It tops out with VGA quality.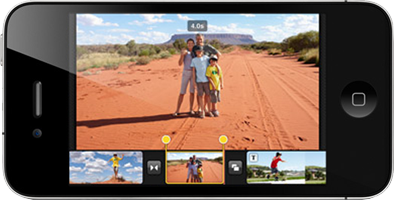 Like the current iPhone camera app, the new HD app will allow you to trim your videos by dragging in and out points with your finger.  But forget about that.  Why?  Because Apple has also announced iMovie for iPhone!  This relativity cheap app ($4.99) allows users to swipe and pinch their way through an elegant editing interface.  Apple has provided themes, transitions, location-based titling, and the ability to import your own music.  Once your project is complete, you can export it in multiple sizes (640×360, 960×540, 1280×720), and then share it in a variety of ways (email, MMS, MobileMe Galleries, YouTube).  There's no indication on Apple's site as to whether iMovie will work on an iPhone 3GS, using its built-in standard definition camera.  As soon as we get the answer, we'll post it.
The iPhone is set to be released on June 24th, with reordering beginning on the 15th.  The new version of the iPhone OS, now known as iOS, is set to be released for current iPhone owners on June 21st.  It's going to be a busy month!
With the new iPhone 4, Apple is once again empowering mobile media makers to create and distribute their unique visions from wherever they happen to be when creativity strikes.  Now, if we could just convince Apple to allow shooting at 24p.