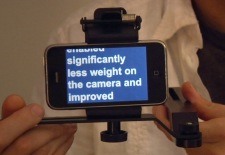 A few weeks back we posted a story featuring apps that can turn your iPhone into a handy-dandy teleprompter.  Our favorite application was (and still is) Bodelin's ProPrompter ($9.99). It's flexible, loaded with features, and scrolls text smoothly.  Despite the convenience of a teleprompter in your pocket, one problem remained.  How do you keep your iPhone close to your camera lens while shooting?
Bodelin is looking to solve the problem with a low-cost camera mount called the ProPrompter Wing.
They sent us one of these aluminum bad-boys last week.  After running a few tests, we're ready to share what we've learned.  We'll even explain a couple tricks for achieving the best results.
Get your own ProPrompter Wing on Amazon.
Find the ProPrompter App for iPhone in the iTunes App Store.
Learn more about the ProPrompter Wing by visiting Bodelin's Web Site.