David Eubank has just released Version 3 of his highly regarded pCAM Film+Digital Calculator for the iPhone. If you're not already familiar with pCAM, it's an amazingly versatile Motion Picture and Still Photography calculator. This new version introduces several additional calculations, updates the user interface, includes 26 new formats, and squashes a couple bugs.
Since I'm admittedly unqualified to discuss this amazing app, I've invited Emmy-nominated Cinematographer, Mark Doering-Powell to share his thoughts.
First a little background: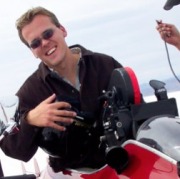 I met Mark nearly 10 years ago. He was Director of Photography on a film I produced called Pearlmageddon. I've been a fan of his work ever since. Mark is a member of the International Cinematographers Guild, the Television Academy, and the Visual Effects Society. He's photographed many films including Cutting Edge: Going for the Gold, Dirty Deeds, Seeing Other People, and One Last Ride. His television work includes Even Stevens, Just for Kicks, Phil of the Future, Family Affair, Hollow Men, and Everybody Hates Chris. Currently, Mark is shooting the new ABC Family series, 10 Things I Hate About You.
HHH: How long have you been using pCAM?
MDP: I've been using it since the days of my old Handspring Visor and Palm Tungsten, on the PalmOS.
HHH: Has pCAM changed much since moving to the iPhone?
MDP: The iPhone version is much improved, and takes advantage of the GUI and control gestures that are available. Its also expanded to cover more tasks.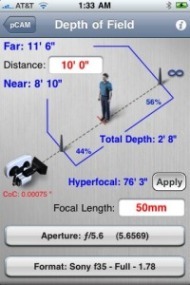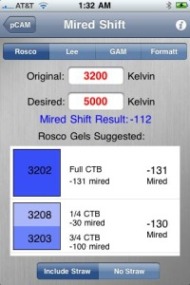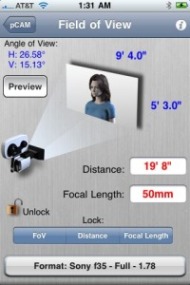 HHH: What are some of your favorite features?
MDP: One of pCAM's best uses remains the Field-of-View / Angle-of-View calculation. Say you're shooting a head-to-toe shot of an actor. Then someone will say, "we'll put an 8×8 flat behind them". pCAM is a great tool to show unequivocally the exact BG dimensions needed on any given focal length, or aspect-ratio, and how it increases with the BG 10 ft away, 20ft away, etc.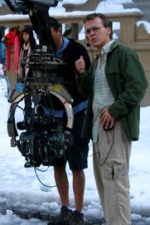 The Color-correction program is very useful, which lets you find exact camera filters to match color-temp, but that doesn't control individual lighting units so precisely. The Mired Shift program handles that very well giving you exact gels to match a color-temperature.
All the other usual suspects of calculators are in there, and they're all very useful. Running-time to length, screen-time, time-lapse, conversions for Kelvin to Mireds, or Footcandles to Lux, etc. Everything is thought out in great detail. For example, in the Focal Length Match, you can match horizontal or vertical depending on aspect ratio. It's really thorough.
HHH: Has pCAM helped you while working with specific equipment?
MDP: I've used HMI Safe to double-check which shutter angles might best protect a Red or another CMOS camera from capturing flicker (not enough light at the usual 144 degrees we had to find 216). pCAM tells you which angles/fps grab full "peaks", and not full and half peaks like you get at 24fps / 180 degree shutter.
The Exposure calculator is useful when you're under-caffeinated and need to double-check the stop compensation of various fps, shutter-angles and ND's on each of the 5+ cameras covering a stunt. Yeah, I did call out a base-stop for all cameras, and I checked it on my fingers and toes, and so did each assistant, but I'm just a little OCD and I've been hurt before by mistakes so if I have time I'll double-check. Plus I might realize that one camera has too deep or too shallow of a final f/stop and make adjustments to their ND or shutter angle. It would be great to implement a "multi-camera" feature, and even let it interface with other iPhones via bluetooth for something like this. I mean, the Dimmer Board Op has an app that lets him control the lights from his phone, I need a cool gadget too. :-)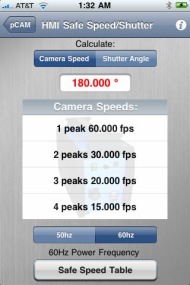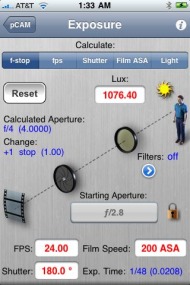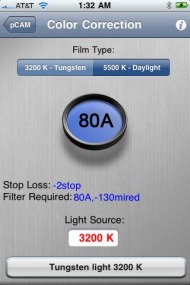 HHH: Anything else you'd like to see added or changed in future versions?
MDP: I wish the GUI's "lock buttons" had little padlocks next to them from the old pCAM. The same way apps like UrbanSpoon have locks, but pCAM's was smaller / better. Bring it back or offer us a "retro skin" that we can purchase.
Macro compensation is another thing I'd like to see modified. I used to have a Sharp CineCalc which calculated macro ratio and exposure compensation by measuring the field-width at point-of-focus. As a Camera Assistant, I used this for pickups on "Schindler's List". I think the reason I got hired to do that is because they were using Otto Nemenz' macro extension tube kit and they said: "call Mark that geeky Assistant" :-)
Such a macro kit has you falling off traditional macro compensation charts after even the smallest tube is added to the bellows. This was for photographing the letters of the names being typed – magnification far beyond the 1:1 limit of 2 stops compensation.
I used the same method and my old CineCalc on a motion-control shot that opened a TV movie, Robin Cook's "Invasion", programming all of the keyframes for a macro iris pull as the move pulled out from 1:1 macro to a wide shot. I think this is one of the best and most accurate methods and I'd like to see pCAM adopt this.
My sincere thanks to Mark for taking time away from set for this interview.