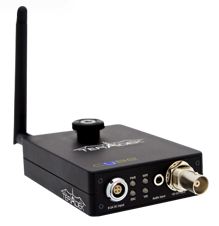 Super Awesomeness, thy name is CUBE!
This is without a doubt the niftiest thing I've seen in a while. The Cube by Teradek is a real-time, camera-mounted video streaming encoder. In other words, it takes video from your camera, encodes it into h.264 video, then streams it over a wireless network to your laptop. The video is then immediately available for viewing via your iPhone, iPod Touch, and iPad running the Air Video app.  That means instant wireless dailies! SICK!
But wait, there's more.  It will also stream wirelessly to any mobile device with a web browser!  That means you can use your iPhone or iPad as a wireless video tap for your camera.  It's not perfect, since there's a 10 second delay caused by iOS's need to buffer video before starting playback.  I'm told Teradek is working on an iOS app of their own, which will remove the 10 second delay… but it might be a while before we see that in the app store.
Limitations aside, this thing is the bomb.  Me want.
Check out the video, and see why I'm all tingly.