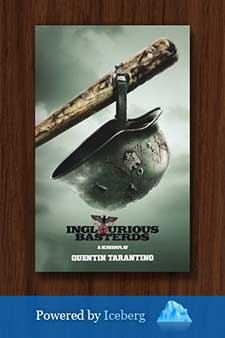 Looking for a little light holiday reading? We've got just the thing… Quentin Tarantino's Inglourious Basterds.
At $13.99, the price is a bit steep. But for any writers-in-training, this screenplay is a must read. Whether you love or hate his films, you have to admit that Tarantino has a knack for engaging dialogue, and explosive tension.
"I love rumors! Facts can be so misleading, where rumors, true or false, are often revealing."
The screenplay comes nestled inside the very elegant Iceberg ebook reader. If you haven't read any of the Iceberg powered books yet (there's thousands of them in the app store), it's about as good as iPhone based ebook reading can get.  It's got a smooth and refined interface that smells like something Apple would have cooked up.
Again… it's not cheap.  But, it is darn good.  It also happens to be the only screenplay we could find in the app store (aside from Buy My Screenplay).
Looking for a different script?  Check out our list of script sources.
Happy Reading!
UPDATE: Looks like this app has been removed from the App Store.  Rats!