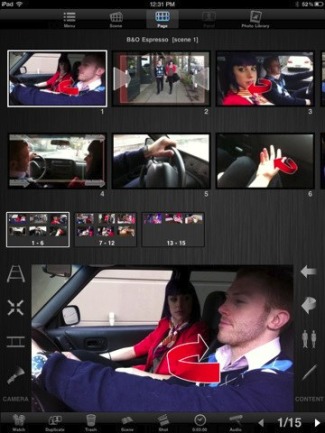 I've said it more than once. Storyboard Composer is the reason Hand Held Hollywood was built. Using Storyboard Composer on my iPhone was such a mind-blowing experience, that I wanted to share it with people around the world…and that's when I decided to create this site.  On a side note, I later learned I was the first person to buy the app in the AppStore — a distinction I'm most proud of.
But, that was two years ago.  Since then, the world was introduced to the iPad (and the iPad 2) — a perfect platform for a revised version of Storyboard Composer.  Well my filmmaking friends, it took a while but the wait is finally over.  Cinemek has released Storyboard Composer HD, and iPad functionality isn't the only new trick.
Before I go any further, let me quickly point out that this appears to be a NEW app (not a free update). That said, the app is currently on a one-week sale! Right now, it's only $4.99 (an absurdly low price for something this cool). I don't know what the price will be after that, but previous versions sold for $19.99. It's a universal app, so buy it once and use it everywhere.
Aside from its new iPad filling awesomeness ("multiview"), Storyboard Composer HD provides much-improved scene organization. Additionally, users can exchange files between devices, and add their own logos on exported PDFs (hooray!).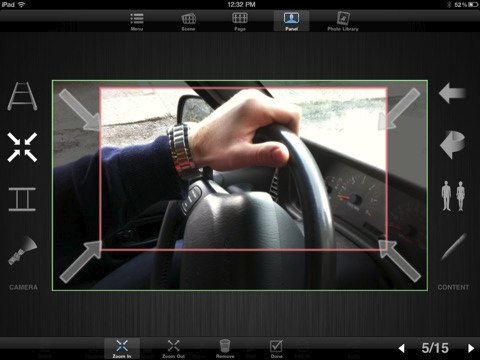 If you're not already familiar with Storyboard Composer, you can learn more about it on Cinemek's homepage, or you can check out some of our previous coverage by searching for "Storyboard Composer" or "Hitchcock" (the app's previous name) in the search box.
Also, make sure to check out Red Giant's Noir Photo, a nifty addition to the Storyboard Composer workflow.
A special thanks to HHH reader Michael Finn for putting the update on my radar.